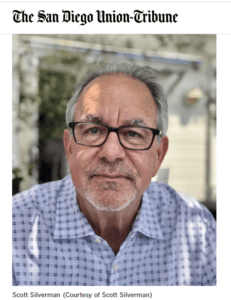 Scott H. Silverman was recently featured by the San Diego Union Tribune newspaper for his work in the field of addiction.
In a feature called Someone San Diego Should Know, the newspaper discussed the work Scott is doing now and his new book. The article also sheds light on his past struggles and personal journey that has led him to be one of the nation's most prominent activists for recovery from addiction. Read the entire feature on their website here: Someone San Diego Should Know: Scott H. Silverman.
Scott's new book, "The Opioid Epidemic," is available now and you can purchase it here: The Opioid Epidemic.
And don't forget, if your situation with a loved one, spouse, or child has started to spiral, call me at 619-993-2738. Scott is the Founder and CEO of Confidential Recovery, an outpatient addiction treatment program in San Diego.
(c) 2021 Scott H Silverman. All Rights Reserved.